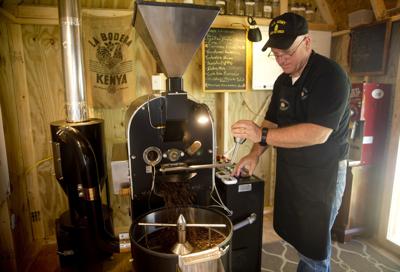 Gregory Rock and his wife Aimé Sposato, the provost at Ferrum College, purchased the historic St. John's in the Mountains property, a former Episcopal Church mission school. Gregory runs a coffee roasting business, Rocsato Coffee Roasters, out of a shed on the property.
Photos by STEPHANIE KLEIN-DAVIS | The Roanoke Times
ENDICOTT — Gregory Rock takes a single freshly roasted coffee bean between his fingers and crushes it, releasing its aroma and inhaling deeply.
On this day, he's roasting a batch of Bella Bold, a silky blend of Colombian Narino and Peru Minca beans named for a departed cat with a hot-and-cold personality.
The name of the coffee is personal, as is everything about Rocsato Coffee Roasters. The business combines Rock's last name with that of his wife, Aimé Sposato. The two moved to the area from Northern Virginia when Sposato accepted a job as provost at Ferrum College.
Rock, 53, roasts the coffee in a small wooden shed on the property of their home, the former Episcopal mission school known as St. John's in the Mountains. The home has a Ferrum address but is located in the Endicott area of Franklin County.
Linda Stanley, with the county historical society, said the mission was funded in part by the Episcopal Diocese of Southwestern Virginia but was a true community endeavor, with locals providing the stones used to build it. The building that Rock and Sposato now call home was completed in 1921, although the mission was started earlier.
Rock said the home, which he and Sposato purchased in September 2017, is known to locals as the rock church. It's fitting, given his last name.
Rock decided to feature the building in his company's logo because it's so well known in the community.
"I'm embracing the local history," he said, wearing an apron embroidered with a tiny depiction of the house.
Rock, a 28-year Army veteran, first began roasting coffee when he was in the service. One of his soldiers had started home roasting and brought Rock a bag, which he shared with his wife. She loved it, and suggested Rock pick up the hobby.
"We never bought coffee at the store again," he said.
After retiring from the Army, Rock got a job at a local winery to get himself out of the house, per his wife's urging. He brought his coffee in for the winery's staff to sample and the owner's daughter said she wanted to sell it in the tasting room.
She handed Rock a card for an attorney, and said once he'd made the business official, the winery would buy his first bags. It was the first step in turning Rock's hobby into a business.
When the couple moved to Franklin County, Rock brought his business with them. His coffee is now available in a number of local businesses, like Twin Creeks Distillery in Rocky Mount and the Floyd Country Store.
Twin Creeks even has its own blend, Shooting Creek Lace. It pairs nicely with whiskey, a combination known as coffee lace.
Rock said the grandmother of Twin Creeks owner Chris Prillaman once raved to him about the coffee, not realizing Rock roasted the beans used in her coffee lace.
"That was one of the best compliments that I could have ever gotten," he said.
Though Rock's operation has grown since he first started roasting in the early 2000s, he's not out to make millions. His only goals is to do something he enjoys and share it with others.
"It's my retirement job, and I'll do it until it's not fun anymore," Rock said.
He typically roasts only twice a week, on Mondays and Tuesdays. In addition to local businesses, Rock counts individuals as regular customers and is happy to work them into his roasting rotation.
Rock wasn't always a coffee nerd. He educated himself by reading books on the subject and still keeps several on hand in the roasting shed. Rock also said much of what he learned at the winery has been applicable to roasting.
Although the shed is full of raw beans — he purchases most from a broker, but some directly from a farm in Nicaragua — Rock manages to limit himself to one cup of coffee a day.
Rock said creaminess is a distinct element of his coffee's flavor profile. His wife is Italian, Rock said, and that's what she likes. He takes care not to roast the beans too dark, which would result in a burned taste.
"I'm about the essence of the bean," he said.
Though the business is Rock's endeavor, Sposato is a common thread through its story. She encouraged him to take up home roasting, and her coffee preferences have influenced his roasting style.
The two have quite the story, Rock said as the beans are roasting.
Rock and Sposato first started dating as students at Shenandoah University, where they were both studying music. But when Rock left school for the Army and Sposato transferred to the University of Pittsburgh, they lost touch.
But years later, after each had been married and divorced, the two reconnected. Rock eventually asked Sposato to marry him on the same bench where they had shared a goodbye kiss when parting ways in college.
The roasting process takes, on average, about 15 minutes. As with most small businesses, Rock is involved in every step of the process, including bagging the beans once they've cooled. Rock carefully places a sticker with the Rocsato Coffee Roasters logo on the bag, joking that he hasn't been able to shake his military precision.
Finally, he places another sticker on the back of the bag saying the craft roasted coffee comes from Franklin County's own St. John's in the Mountains.
Best wishes
Adam